Online Registration
INTRODUCTION TO TEEN JEWELRY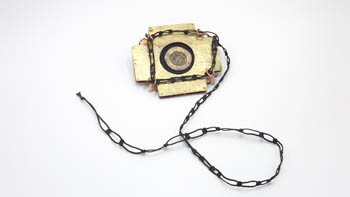 There are still openings remaining at this time.
Learn the basic techniques of jewelry fabrication and metalsmithing by making pieces such as bracelets, pendants, and earrings. Students will learn techniques of soldering, cold-connections, wire-wrapping, and more! Step-by-step demonstrations and instructions will lay the foundation for the student to learn piercing with the jeweler's saw, finishing, and forming metal sheet and wire. Each project simultaneously builds jewelry making skills learned from the beginning of class to the last advanced project. Attendance is important! Metals, such as copper, brass, and a small amount of silver, as well as all necessary tools will be provided. For beginners the first class is MANDATORY. There will be NEW PROJECTS each quarter!!
All necessary materials and supplies are included in the $50 Materials Fee and the $15 Jewelry Lab Fee, which are PAYABLE WITH REGISTRATION.
Blair Valentino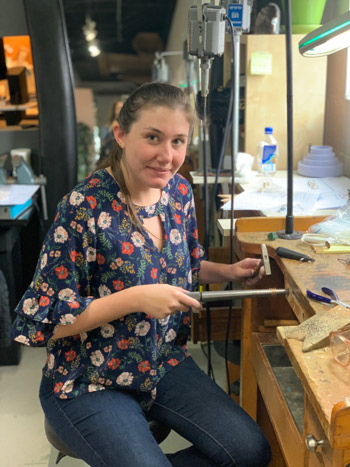 Blair.Valentino@outlook.com
Blair's Class


What classes do you teach?
I teach Teen Jewelry and Metalsmithing
How would you describe your teaching style?
The way I teach is a combination of styles. I would say my main goal is to create an educational environment that supports learning, discovery, and exploration.
What is your Facebook/Instagram/website (if any) so people can see your work?
Facebook: Blair Valentino Designs
Instagram: blairvalentino
A description of your work pertaining to each style of visual arts you teach (1 per style)
My work involves the technique called, Foldforming, and the interaction between different forms of line.
Who is your favorite artist, or what/who has been your biggest inspiration?
My favorite artists are my peers in the field. I grew up going to American Craft Shows and other art festivals. I always talked to jewelers for advice on anything in the business.
What motivated you to become a teacher?
I took Teen Jewelry classes from Kristin Wilder when I was sixteen. I loved the class. It was a wonderful distraction for me during highschool. I've always wanted to teach teens since I found my passion to create art. I want to share the experience I had with others who may be going through hard times or just need a creative outlet.
What is a fun fact about yourself you'd like others to know?
I have a dog named, Maggie
Any further bio information and/or accolades you wish to be included
Blair graduated from University of Georgia with a Bachelor of Fine Arts in Studio Art with an emphasis in Jewelry and Metalsmithing. She also received the Kenneth Kase scholarship in 2019.
| Date | Day | Time | Location |
| --- | --- | --- | --- |
| 06/25/2023 | Sunday | 3 PM to 5 PM | RM 09 |
| 07/02/2023 | Sunday | 3 PM to 5 PM | RM 09 |
| 07/09/2023 | Sunday | 3 PM to 5 PM | RM 09 |
| 07/16/2023 | Sunday | 3 PM to 5 PM | RM 09 |
| 07/23/2023 | Sunday | 3 PM to 5 PM | RM 09 |
| 07/30/2023 | Sunday | 3 PM to 5 PM | RM 09 |
| 08/06/2023 | Sunday | 3 PM to 5 PM | RM 09 |
| 08/13/2023 | Sunday | 3 PM to 5 PM | RM 09 |