Online Registration
INTUITIVE APPROACH TO HANDBUILDING - ALL LEVELS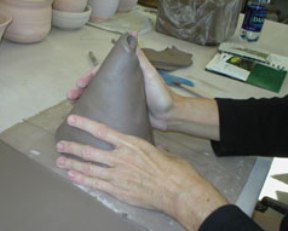 Sorry, this course is closed (full).
A class environment where you, beginner or pro, have the opportunity to explore your own creativity. We often expect to be told what to do, but the secret is: The best stuff resides within yourself. My job is to guide you, show you the unlimited possibilities and offer the technical skills to make it happen. We will use the word "Yes" throughout the class. Yes, we will do the usual handbuilding methods: coil, pinch, slab, etc., including raku, and yes, we will chart our own course while doing so. See spruillarts.org for additional details regarding supplies.
Carol Brull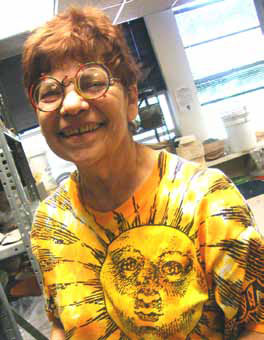 (770) 394-3338
claybrull@aol.com
Carol's Classes


Carol Brull considers herself more of a facilitator than a teacher. Her intent is to provide tools (skills and guidance) for students to create that which is already within themselves.
I have been playing in clay since early childhood (and still am).

I have been studying ceramics since 1974 (and still am).

I have been showing/selling my ceramics since 1975 (and still am).

I have been teaching ceramic classes since 1980 (and still am).


| Date | Day | Time | Location |
| --- | --- | --- | --- |
| 01/10/2024 | Wednesday | 7 PM to 9:30 PM | RM 04 |
| 01/17/2024 | Wednesday | 7 PM to 9:30 PM | RM 04 |
| 01/24/2024 | Wednesday | 7 PM to 9:30 PM | RM 04 |
| 01/31/2024 | Wednesday | 7 PM to 9:30 PM | RM 04 |
| 02/07/2024 | Wednesday | 7 PM to 9:30 PM | RM 04 |
| 02/14/2024 | Wednesday | 7 PM to 9:30 PM | RM 04 |
| 02/21/2024 | Wednesday | 7 PM to 9:30 PM | RM 04 |
| 02/28/2024 | Wednesday | 7 PM to 9:30 PM | RM 04 |
| 03/06/2024 | Wednesday | 7 PM to 9:30 PM | RM 04 |
| 03/13/2024 | Wednesday | 7 PM to 9:30 PM | RM 04 |