Online Registration
SURFACE TEXTURE IN HAND-BUILDING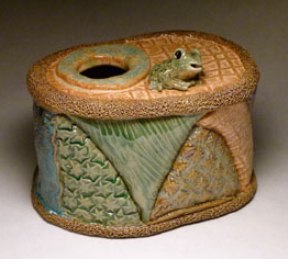 Sorry, this course is closed (full).
Learn how to create functional and decorative pottery through hand-building techniques. Enhance your creations by the application of surface textures that will add depth and personality to your work. See spruillarts.org for additional details regarding supplies.
Regina Wolff
reginawolff@bellsouth.net
Regina's Classes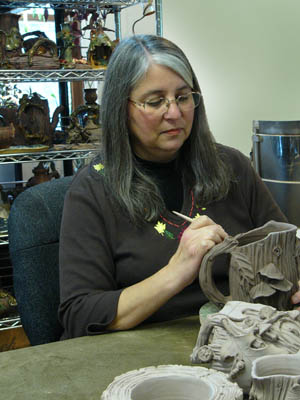 Regina Wolff grew up in the small beach community of Rockaway Park, New York. She took her first pottery class at the Brooklyn Museum at age 11. After attending college at the University of Connecticut and Georgia State University, Regina began her pottery career making wheel thrown functional pieces and selling them at local craft shows and galleries in Atlanta.
Over the years, Regina's passion for nature and gardening has played a major role in developing her pottery style. Although her work continues to be primarily functional, naturalistic sculptural elements are incorporated into nearly every piece she produces.
Now that her children are grown, Regina divides her time between working in her home studio and teaching pottery, finding it important to move from the solitary environment of her studio to a place where she can share her 30+ years of experience with others.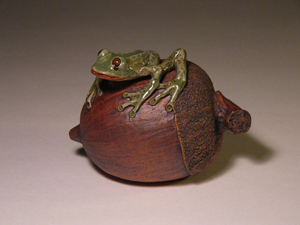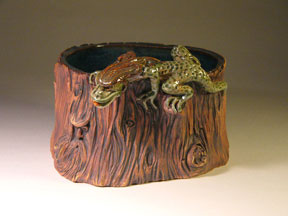 | Date | Day | Time | Location |
| --- | --- | --- | --- |
| 01/11/2024 | Thursday | 10 AM to 12:30 PM | RM 04 |
| 01/18/2024 | Thursday | 10 AM to 12:30 PM | RM 04 |
| 01/25/2024 | Thursday | 10 AM to 12:30 PM | RM 04 |
| 02/01/2024 | Thursday | 10 AM to 12:30 PM | RM 04 |
| 02/08/2024 | Thursday | 10 AM to 12:30 PM | RM 04 |
| 02/15/2024 | Thursday | 10 AM to 12:30 PM | RM 04 |
| 02/22/2024 | Thursday | 10 AM to 12:30 PM | RM 04 |
| 02/29/2024 | Thursday | 10 AM to 12:30 PM | RM 04 |
| 03/07/2024 | Thursday | 10 AM to 12:30 PM | RM 04 |
| 03/14/2024 | Thursday | 10 AM to 12:30 PM | RM 04 |