Online Registration
LIGHT MY FIRE--MELTING AND WELDING STEEL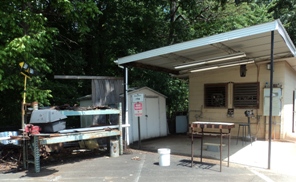 This focused hands on workshop will give you the chance to work with a torch and welder to learn the principles of manipulating metal. We'll cover safety, science, principles of melting metal, equipment, differences in metals and more. Each class is limited to 2 students so you'll have a torch or welder in hand and have a finished piece from each session. Two three hour sessions--first day is working with an oxy-acetylene torch for cutting and bending steel. The second day will be hands on with a MIG welder. NO EXPERIENCE REQUIRED - just the desire to learn. A Materials Fee of $35 is PAYABLE TO THE INSTRUCTOR at the first session. This takes place at Kathy's home studio in Marietta, GA. Come play with FIRE!
Kathy Walton
The Trip here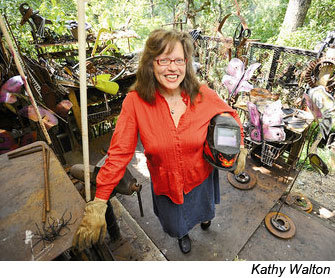 steelartbykathy@gmail.com
Kathy's Classes
Kathy Walton teaches Welding - Light My Fire and Flower Arranging - Basic & Artistic. She describes her teaching style as hands on for every student. For more of her work:
http://www.kathywaltonarts.com
Kathy grew up on a farm in central Illinois making holiday door decorations of evergreen trimmed from the yard and leaves, seedpods and pretty roadside treasures collected throughout the year. Her mother always said you can't have too many rocks, sticks and twigs. You never know when you'll need just the right piece. After college, she spent a couple decades running stores. From lawnmowers to diamonds, she was still making arrangements pleasing to the eye with what was at hand.
At 40, she and her husband bought a house, quit their jobs, cut their hair and quit smoking-all on the same weekend!! They started a contracting business working with hotels. She became quite adept with a power drill and a saw. A course on metal sculpture to learn to use welding equipment they'd acquired led her to another new world.
Sculpture~On the Edge of Wild came about and now she sorts through stacks of junk and debris for just the right part for a nose or an eye. Recycling while creating sculptures for the garden and home! She has definitely come full circle--From roadside weeds into flower arrangements to roadside junk into sculpture. And she's still scouting for great finds wherever she goes. She describes her style as an enhanced line drawing. The steel sculptures are light and airy even made of heavy-duty junk. Ceramics have texture and character with rough edges--and great critters.
She works from her home and studio in Marietta, GA. Call to view the collection. She enjoys showing off her critters in their natural habitat.
Kathy currently has anywhere from 5 to 10 pieces displayed at Sope Creek Elementary, Knight Elementary, Sandy Springs Elementary, Dickerson Middle School, Walton High School, Sprayberry High School, Heritage Park in Sandy Springs, the Chattahooche Nature Center, the Skyland Trail Treatment Center, and the Shephard Center.
Commissions and special requests welcome.
| Date | Day | Time | Location |
| --- | --- | --- | --- |
| 01/27/2024 | Saturday | 10 AM to 1 PM | Blacksmithing Studio |
| 02/03/2024 | Saturday | 10 AM to 1 PM | Blacksmithing Studio |