BEYOND THE BASICS: DESIGN AND FABRICATION IN METAL
Save $20.00 with a 2021 Membership - New and Renewal of unexpired 2020 memberships
Course Number:
202JEAC010
Dates:
Monday, August 3 - October 12, 2020
Check for other dates or times
Exception Dates:
No Class 9/21
Meets:
10:00 AM to 1:20 PM 9 sessions
Instructor:
Joanne Hernandez
Fee:
$240.00Fee Breakdown
Notes:
All staff, instructors, and students will be required to wear face masks while in the building and during their class. Each individual will be responsible for providing their own covering; however, additional masks will be on hand in case of breakage or if a mask becomes dirty. Class sizes may be reduced for Social Distancing, and hand washing is encouraged before, during and after class.
Sorry, this course is closed (full).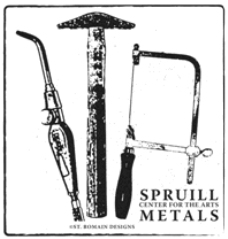 Description
This class guides students as they transition from beginning level metalsmithing techniques to an intermediate level of design and fabrication. Students will work on more complex, instructor-guided projects, furthering their fabrication skills, craftsmanship and design sense. Projects and demonstrations vary each quarter and may include mechanisms such as hinges, clasps, findings, and surface design techniques. PREREQUISITE: Three Beginning Jewelry and Metalsmithing classes at the Spruill Center for the Arts, or by permission of the instructor.