PORTRAIT AND FIGURE III - COLOR IN THE PORTRAIT with NANCY HONEA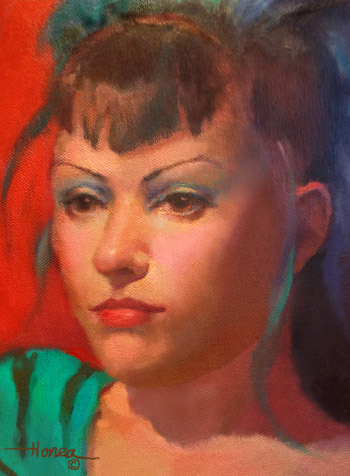 Description
Focus on brilliant, exciting COLOR as you develop the portrait, building on skills and concepts introduced in Course I and II. Work in either Oil Paint or Dry Pastel. Explore "clean color" specific to portrait and figure painting. Increase your Color Perception, mix clean color neutrals, and make expressive paint application. Expand your knowledge of unique composition. Construct a painting by using Light/Shadow to sculpt the form, building on essential knowledge of anatomy. Continuing students progress to sharpen skills, and explore self-expression. Live model, 8 weeks on one complex pose and background. Individual & general instruction. Model Fee shared/collected first class.
INTERMEDIATE LEVEL DRAWING/PAINTING SKILLS ARE REQUIRED.
Pre-requisite: both COURSE I AND COURSE II.
This course is not available for on-line registration due to the prerequisite. See www.spruillarts.org for a list of supplies you will need to bring to class.