Save $20.00 with a 2019 Membership - New and Renewal
Course Number:
191JEMC010
Dates:
Thursday, January 10 - February 28, 2019
Check for other dates or times
Meets:
10:00 AM to 1:00 PM 8 sessions
Instructor:
Pam East
Fee:
$334.00Fee Breakdown
Notes:
Do NOT bring any PEANUT products to class. Pam East is deathly allergic to peanuts and even the smell can cause problems. She is not allergic to other tree nuts, so those are fine.
More Course Info:
Supply List
There are still openings remaining at this time.
A valid credit card will be required for payment. Please have your card information ready.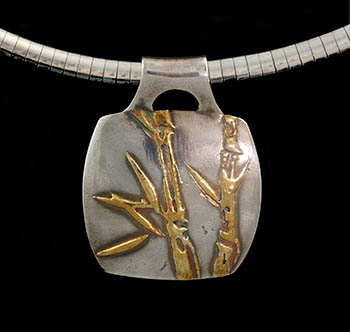 Description
Explore the exciting world of silver clay. Silver clay is .999 pure silver powder mixed with organic binders allowing you to work it like clay. It can be molded, sculpted, rolled, textured, and more. The binder burns away when fired, leaving pure silver. Learn and master the fundamentals of metal clay, including a variety of construction techiques, firing and finishing. This course is intended for beginner to intermediate students and should be taken multiple times before moving on to Intermediate/Advanced classes. A Materials Kit Fee of $80 PAYABLE TO INSTRUCTOR AT FIRST CLASS. See www.spruillarts.org for a list of supplies you will need to bring to class.