CHAMPLEVE ENAMELING ON SILVER CLAY
Save $20.00 with a 2019 Membership - New and Renewal
Course Number:
191SWMC320
Dates:
Su, F, Sa, March 8-10, 2019
Check for other dates or times
Meets:
10:00 AM to 5:00 PM 3 sessions
Instructor:
Pam East
Fee:
$370.00Fee Breakdown
Notes:
Do NOT bring any PEANUT products to class. Pam East is deathly allergic to peanuts and even the smell can cause problems. She is not allergic to other tree nuts, so those are fine.

This course replaced the course numbered 191JEMC320 in the paper catalog.
More Course Info:
Supply List
Sorry, this course is inactive.
This course ended on March 10, 2019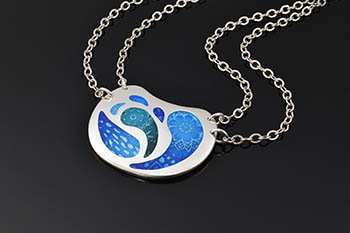 Description
Dive into the art of enameling on silver clay with Pam East's innovative approach to champlevé. Metal Clay topics include designing for enamel, construction techniques, firing schedules and preparing the metal for enamels. Enameling topics include preparing enamels for use, firing, color shading, and finishing techniques. Over the course of the three days, each student will be able to make one complete piece from beginning to end. Some experience with metal clay recommended, but not required. An additional materials kit fee is estimated between $215 and is payable to the instructor on the third day of class.