Online Registration
2023 Membership - New and Renewal of unexpired 2022 memberships
Course Number: MEM23
Meets: 12 M to 12:00 AM
Fee: $50.00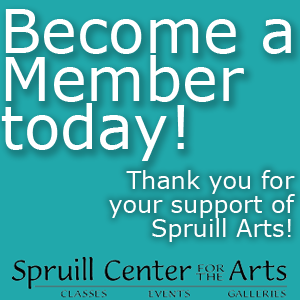 Membership Levels and Benefits


Artist Level - $50

" Discount on classes - up to $20 off per class
" Advance registration of classes
" 10% discount on purchases on Spruill merchandise, Gallery, Gift Shop and Holiday Artists Market
" Member discount at art supply stores. Present your email receipt at purchase.

Patron Level - $100

All the benefits of Artist Level PLUS:

" Includes up to 4 household members
" Free member exclusive gift

Donor Level - $250

All the benefits of Patron Level PLUS:

" Member exclusive Back to Spruill Week 1-day workshop for one person


Contributor Level - $500

All the benefits of Donor Level PLUS:

" Member exclusive sneak preview/shop Holiday Artists Market

Curator Level - $1000

All the benefits of Contributor Level PLUS:

" 2 tickets to Spirits for Spruill

Membership is valid for one year (365 days) from time of payment.
Membership discounts only apply to courses beginning during your active membership.
The December 31st date in this course is for accounting purposes only.

IMPORTANT: Please make sure all household members are grouped to your account before purchasing $100 or above membership. Household members will not receive the member rate until this set-up is complete. If you need assistance with grouping your household members online, please call 770.394.3447 Ext.0.

Membership is a NON-REFUNDABLE, TAX DEDUCTABLE donation.
Membership is valid for one full year from the date of payment - see the date in the header of your email receipt; any course that begins before that date next year will qualify for the member rate.
Fee Breakdown
| Category | Description | Amount |
| --- | --- | --- |
| Course Fee (Basic) | Artist Level | $ 50.00 |
| Course Fee (Alternate) | Patron Level ( Family ) | $ 100.00 |
| Course Fee (Alternate) | Donor Level ( Family ) | $ 250.00 |
| Course Fee (Alternate) | Contributor Level ( Family ) | $ 500.00 |
| Course Fee (Alternate) | Curator Level ( Family ) | $1,000.00 |