Online Registration
GET TO KNOW CHASING AND REPOUSSÉ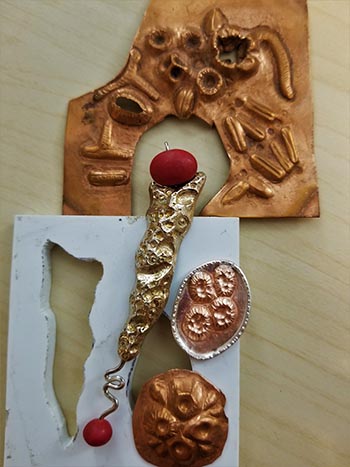 This course ended on March 19, 2023
Come learn about an ancient technique without having to invest in expensive tools! This class will introduce students to the basic concepts of chasing and repoussé. Students will create sample pieces using thin gauges, learn how to 'frame' your work and about the new technologies available that will allow artists to produce and work with multiples. Having studied with 5 masters of this technique, my goal for students is to gain a new tool for their jewelry skills box with an easy beginner's approach! With a chasing hammer and a few readily available materials, you can produce sculptural forms that are light weight and strong and uniquely yours; one of a kind or repeatable elements. Bring your lunch and have some fun! See www.spruillarts.org for further information regarding Materials Kit and a list of supplies you will need to bring to class.
Stacy Nathan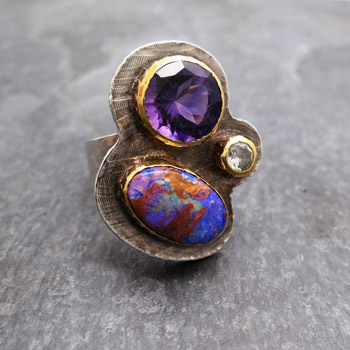 foundart@bellsouth.net
Stacy's Classes


Stacy Nathan has always worked in a creative field. After 20 years in the film industry as a sound editor, she started working in metals. After two summers in San Francisco, studying at Alan Revere's studio, she knew it was time to leave the film industry and pursue the study and production of jewelry. She is currently working in mixed-media, incorporating Polymer clay, enamel work, gem stones and found objects into her metal fabricated pieces. Her love of color and sculptural processes has always dominated her work and she strives for natural and dynamic designs.
Stacy has shown in several shows in the Atlanta and Los Angeles areas and works on commission pieces. As a member of the Georgia Goldsmith Guild, she has been able to study with masters in many different areas of metal fabrication and has sought out masters in Polymer clay and Enamel work to help further her design choices. "Exploration is invigorating; the journey must be heart felt."
| Date | Day | Time | Location |
| --- | --- | --- | --- |
| 03/18/2023 | Saturday | 10 AM to 4 PM | RM 09 |
| 03/19/2023 | Sunday | 10 AM to 4 PM | RM 09 |