Online Registration
PARENT & CHILD PAINTING AGES 5 AND UP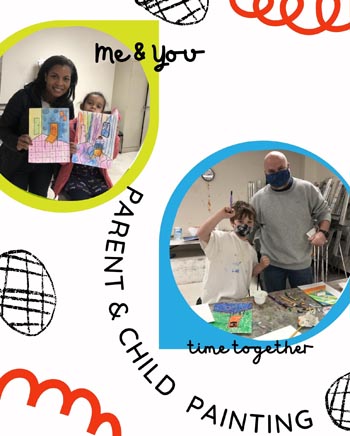 This course ended on March 11, 2023
Join Ms. Nagel as she guides you and your child to create original "masterpieces" by working side by side, learning the fundamentals of painting. All school age children welcome. Fee includes one child and one adult (parent, grandparent or a special family member). No need to bring anything (except maybe a smock); supplies are included in the course fee.
NOTE: The Sibling Fee is not available for On-Line registration. If you want to register multiple children, you must complete a paper registration form and submit it by fax, mail, or in person. Click HERE for a printable Registration Form.
Rebecca Nagel
rebnagel@yahoo.com
Rebecca's Classes


Art Instructor Rebecca Nagel has been teaching children of all ages for the past 6 years. Rebecca has taught at the Spruill Center for the Arts & Vanderlyn Elementary School, both in Dunwoody, Ga. Her expertise is in working with children to release and nurture their creativity using a variety of mediums. Recently she was recognized by the Governor of the State of Georgia as a Georgia Exceptional Teacher. She has even taken the opportunity to use art with teenagers as a therapeutic tool and means for expressing their unique style and imagination! Needless to say, Rebecca's passion is art!
Rebecca holds a B.A. from Auburn University in Mass-Communications/Journalism, and has studied in Europe with the Art Institute of Atlanta. Her artwork has been featured in several films across the nation, earned awards, and been displayed at schools such as Agnes Scott College. She is in the process of publishing a book and producing and facilitating adult seminars on art as a powerful healing tool.
| Date | Day | Time | Location |
| --- | --- | --- | --- |
| 02/18/2023 | Saturday | 1 PM to 3 PM | RM 14 |
| 02/25/2023 | Saturday | 1 PM to 3 PM | RM 14 |
| 03/04/2023 | Saturday | 1 PM to 3 PM | RM 14 |
| 03/11/2023 | Saturday | 1 PM to 3 PM | RM 14 |