Online Registration
ALL LEVEL METAL CLAY: TRILOGY OF RINGS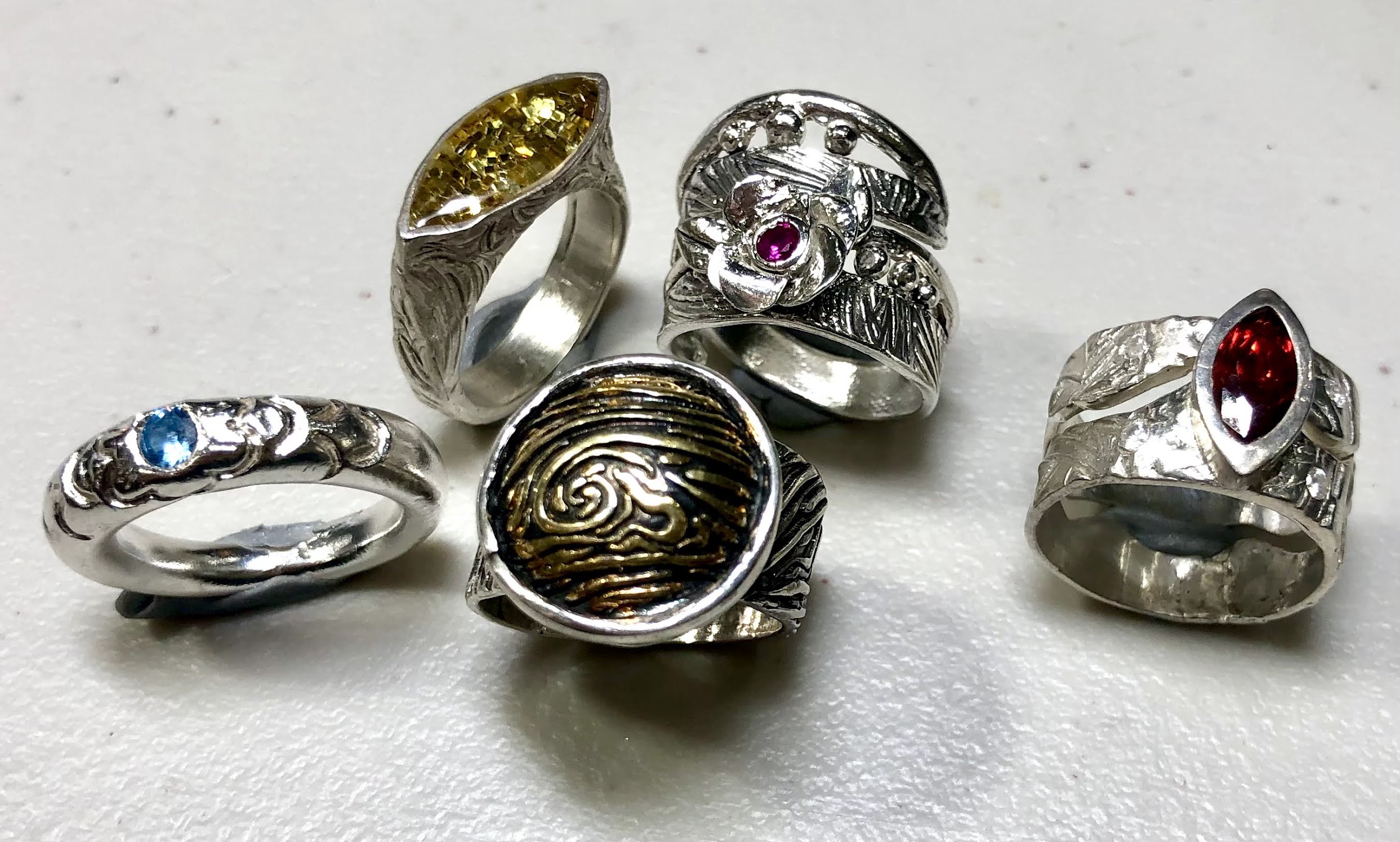 This course ended on May 23, 2023
Learn the fundamental techniques in designing and construction of rings with sterling and fine silver metal clays. Projects will include construction methods in creating round, flat and multiple dimensional bands. The students will learn correct sizing, clay handling, addition of fireable gemstone settings, pearl setting, and finishing techniques.
All levels welcome.
A materials fee of $15.00 is payable TO THE INSTRUCTOR at the first session. The $15 materials fee for this class includes investment, fine silver finding, use of instructor provided tools and equipment, and other consumables used in class. It does not include any metal clay products, fireable gems or pearls.
Patricia Lillie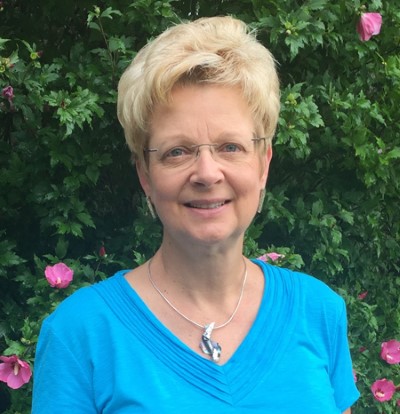 pat.lillie@gmail.com
Pat's Classes


Pat Lillie teaches Metal Clay, Metal and Metal Clay Soldering, Dichronic Glass and Metal Clay, and Techniques in Stone Setting. She says of her teaching style, people each have their own favorite ways of picking up and retaining knowledge. She tries to reach her students with several different methods in the classroom, so they can understand, retain, and apply the information she is teaching them. She likes to verbally explain the 'why I am doing things' first, 'what I am going to do' explanation 2nd, followed by actually demonstrating the techniques 3rd. Afterward, her students can explore and try the project techniques for themselves along with followup questions and answers. Her work can be seen at:
facebook.com/pg/patricialilliejewelrydesign
Pat is an artist and teacher who works in metal clay and traditional metalsmithing. She received BFA degrees in Painting, Drawing and Graphic Design. She was a part time painting and drawing instructor and a full-time professional graphic designer until 2009. In 2000, she started designing and creating with precious metals. In 2016, she was named Senior Certification Instructor by PMC Connection. She currently teaches Silver 1 and PMC metal clay classes at William Holland School of Lapidary in north Georgia and in her private studio.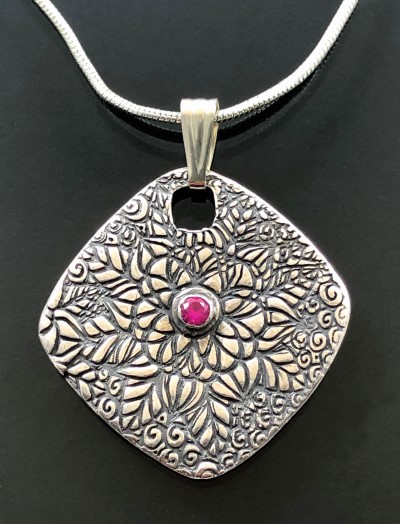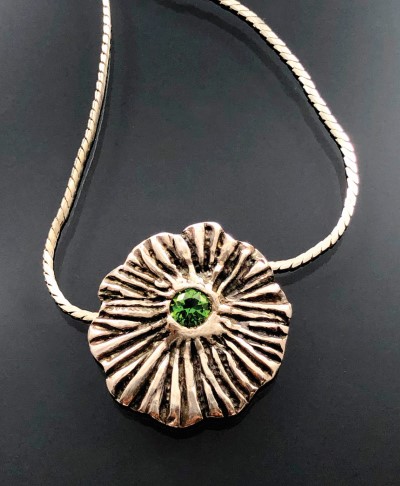 She is a jewelry designer who loves working in both traditional metalsmithing techniques and metal clay. She feels these two mediums allow for a greater diversity in creativity and freedom of expression in her art. She incorporates her knowledge of lapidary, intarsia and lampwork beading in her work. Her desire to share what she was experiencing and creating took her down the path to become a teacher. Pat says, "You can't keep it to yourself." She found that in order to really enjoy and be inspired to create my artwork, she had to share with others, so they could learn it as well.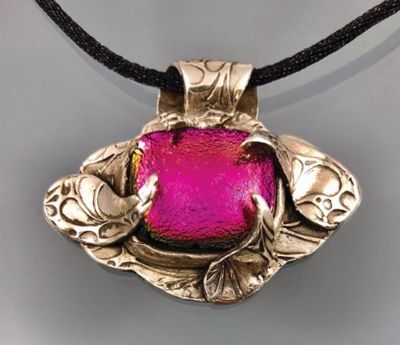 There are many great artists whose work she loves, but Georgia O'Keefe is her favorite artist. Her intimate detail and use of color has always captured Pat's imagination. But, her biggest inspiration was her father. He encouraged by example all the efforts she makes in creating her art.
Her love of nature in all of its ever changing forms, textures and color is a constant source of expression in many of the pieces she designs. She finds a joy in designing and making silver jewelry that combines natural shapes, cut stones, and textures with the silver medium.
Pat loves to share and pass on, to students, her knowledge and skills with metals and metal clay in workshops in her home studio and various locations. Pat has had the opportunity to travel quite a bit (being married to a career military and commercial pilot) and has been able to visit well over 55 states and countries so far. She's hoping to see more!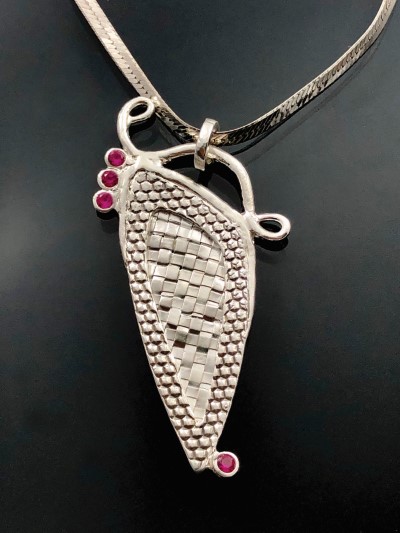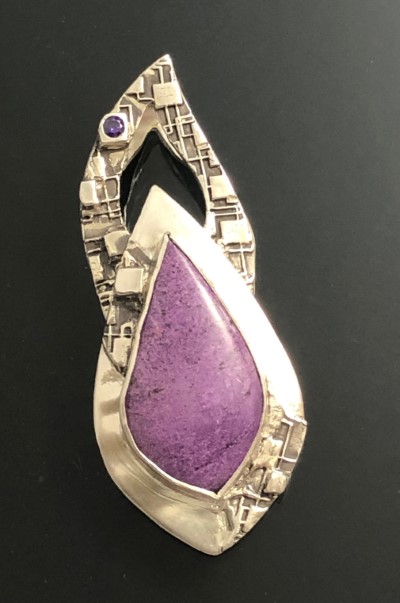 | Date | Day | Time | Location |
| --- | --- | --- | --- |
| 04/11/2023 | Tuesday | 10 AM to 2 PM | RM 03 |
| 04/18/2023 | Tuesday | 10 AM to 2 PM | RM 03 |
| 04/25/2023 | Tuesday | 10 AM to 2 PM | RM 03 |
| 05/09/2023 | Tuesday | 10 AM to 2 PM | RM 03 |
| 05/16/2023 | Tuesday | 10 AM to 2 PM | RM 03 |
| 05/23/2023 | Tuesday | 10 AM to 2 PM | RM 03 |