Online Registration
WHEEL - INTERMEDIATE & ADVANCED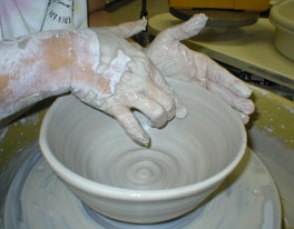 There are still openings remaining at this time.
Please note: this course has Prerequisites
PREREQUISITE: Two wheel classes. Go beyond the basics! Enjoy the fun and stimulation of working with other intermediate and advanced students as we explore pedestals, casseroles, sculptural additions, and ways of making your pots unique! Refine your shapes and techniques to achieve stronger design. Emphasis will be given to experimenting with glazes, all to achieve professional-looking results. See spruillarts.org for additional details regarding supplies..
| Date | Day | Time | Location |
| --- | --- | --- | --- |
| 07/29/2023 | Saturday | 1 PM to 3:30 PM | RM 08 |
| 08/05/2023 | Saturday | 1 PM to 3:30 PM | RM 08 |
| 08/12/2023 | Saturday | 1 PM to 3:30 PM | RM 08 |
| 08/19/2023 | Saturday | 1 PM to 3:30 PM | RM 08 |
| 08/26/2023 | Saturday | 1 PM to 3:30 PM | RM 08 |
| 09/02/2023 | Saturday | 1 PM to 3:30 PM | RM 08 |