Online Registration
WHEEL - ALL LEVELS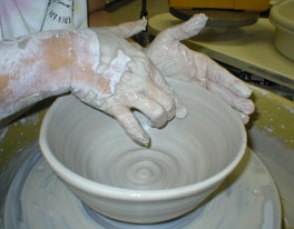 Sorry, this course is closed (full).
Beginning students will learn the basic principles of making pottery forms on the wheel. Students will learn throwing, trimming and glazing techniques. More advanced students will continue to develop these techniques and concentrate on individual projects and expression. An optional tool kit is available for a $10 fee, PAYABLE TO THE INSTRUCTOR during the first class. See spruillarts.org for additional details regarding supplies.
Notes:
All staff, instructors, and students will be required to wear face masks while in the building and during their class. Each individual will be responsible for providing their own covering; however, additional masks will be on hand in case of breakage or if a mask becomes dirty. Class sizes may be reduced for Social Distancing, and hand washing is encouraged before, during and after class.
John Gresens
| Date | Day | Time | Location |
| --- | --- | --- | --- |
| 10/03/2023 | Tuesday | 7 PM to 9:30 PM | RM 08 |
| 10/10/2023 | Tuesday | 7 PM to 9:30 PM | RM 08 |
| 10/17/2023 | Tuesday | 7 PM to 9:30 PM | RM 08 |
| 10/24/2023 | Tuesday | 7 PM to 9:30 PM | RM 08 |
| 10/31/2023 | Tuesday | 7 PM to 9:30 PM | RM 08 |
| 11/07/2023 | Tuesday | 7 PM to 9:30 PM | RM 08 |
| 11/14/2023 | Tuesday | 7 PM to 9:30 PM | RM 08 |
| 11/28/2023 | Tuesday | 7 PM to 9:30 PM | RM 08 |
| 12/05/2023 | Tuesday | 7 PM to -3:** AM | RM 08 |
| 12/12/2023 | Tuesday | 7 PM to 9:30 PM | RM 08 |