Online Registration
HANDBUILDING FOR EVERYONE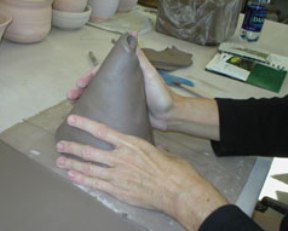 Sorry, this course is closed (full).
Recommended as a Student's first ceramics course, though more advanced students are also welcome. The thing about clay is you can turn it into almost anything with just your hands and a few simple tools. We will explore the many techniques available to create, decorate and fire work that is "you". Functional to sculptural; the sublime to the ridiculous. Whether you are new to clay or an experienced professional, it is all possible and Carol will show you how. See www.spruillarts.org for additional details regarding supplies.
Carol Brull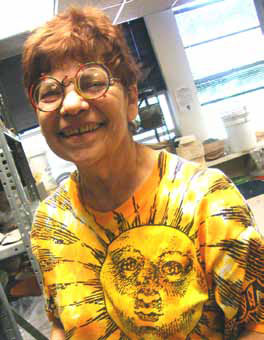 (770) 394-3338
claybrull@aol.com
Carol's Classes


Carol Brull considers herself more of a facilitator than a teacher. Her intent is to provide tools (skills and guidance) for students to create that which is already within themselves.
I have been playing in clay since early childhood (and still am).

I have been studying ceramics since 1974 (and still am).

I have been showing/selling my ceramics since 1975 (and still am).

I have been teaching ceramic classes since 1980 (and still am).


| Date | Day | Time | Location |
| --- | --- | --- | --- |
| 01/09/2024 | Tuesday | 7 PM to 9:30 PM | RM 04 |
| 01/16/2024 | Tuesday | 7 PM to 9:30 PM | RM 04 |
| 01/23/2024 | Tuesday | 7 PM to 9:30 PM | RM 04 |
| 01/30/2024 | Tuesday | 7 PM to 9:30 PM | RM 04 |
| 02/06/2024 | Tuesday | 7 PM to 9:30 PM | RM 04 |
| 02/13/2024 | Tuesday | 7 PM to 9:30 PM | RM 04 |
| 02/20/2024 | Tuesday | 7 PM to 9:30 PM | RM 04 |
| 02/27/2024 | Tuesday | 7 PM to 9:30 PM | RM 04 |
| 03/05/2024 | Tuesday | 7 PM to 9:30 PM | RM 04 |
| 03/12/2024 | Tuesday | 7 PM to 9:30 PM | RM 04 |