Online Registration
WHEEL - ALL LEVELS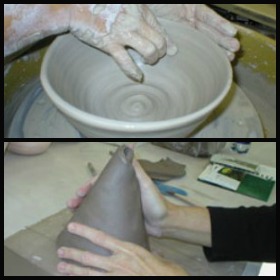 Sorry, this course is closed (full).
Beginning students will learn study principles of making pottery forms on the wheel. Students will learn throwing, trimming and glazing techniques. More advanced students will continue to develop these techniques and concentrate on individual projects and expression. An optional tool kit is available for a $10 fee, PAYABLE TO THE INSTRUCTOR during the first class. See www.spruillarts.org for additional details regarding supplies.
Janet Schneider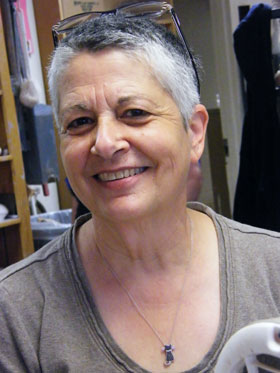 (770) 552-8084
Janet's Classes


Janet Schneider teaches both Wheel and Handbuilding. She describes her teaching style as relaxed, geared towards the individual students' level. It focuses on experimentation and surface decoration.
A Baltimore native, Janet had several brief encounters with clay in the 1970s and decided it was something she would like to pursue when time allowed. After retiring as an occupational therapist and moving to Atlanta, the opportunity presented itself at the Spruill Center. She entered Spruill in 2001 and has never left. She now teaches both child and adult classes in wheel and hand building. Her focus is on simple design and surface decoration. She enjoys sharing her fascination with clay and materials, and encouraging her students to take risks in art.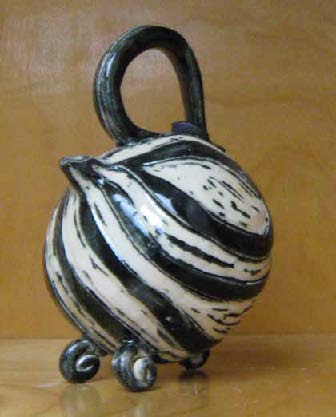 | Date | Day | Time | Location |
| --- | --- | --- | --- |
| 01/07/2024 | Sunday | 10 AM to 12:30 PM | RM 08 |
| 01/14/2024 | Sunday | 10 AM to 12:30 PM | RM 08 |
| 01/21/2024 | Sunday | 10 AM to 12:30 PM | RM 08 |
| 01/28/2024 | Sunday | 10 AM to 12:30 PM | RM 08 |
| 02/04/2024 | Sunday | 10 AM to 12:30 PM | RM 08 |
| 02/11/2024 | Sunday | 10 AM to 12:30 PM | RM 08 |
| 02/18/2024 | Sunday | 10 AM to 12:30 PM | RM 08 |
| 02/25/2024 | Sunday | 10 AM to 12:30 PM | RM 08 |
| 03/03/2024 | Sunday | 10 AM to 12:30 PM | RM 08 |
| 03/10/2024 | Sunday | 10 AM to 12:30 PM | RM 08 |