Online Registration
WHEEL - INTERMEDIATE & ADVANCED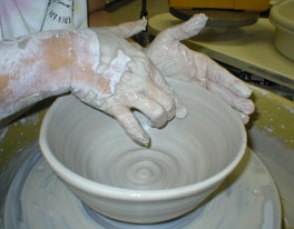 Sorry, this course is closed (full).
Please note: this course has Prerequisites
PREREQUISITE: Two wheel classes. Go beyond the basics! Enjoy the fun and stimulation of working with other intermediate and advanced students as we explore pedestals, casseroles, sculptural additions, and ways of making your pots unique! Refine your shapes and techniques to achieve stronger design. Emphasis will be given to experimenting with glazes, all to achieve professional-looking results. See spruillarts.org for additional details regarding supplies..
Notes:
All staff, instructors, and students will be required to wear face masks while in the building and during their class. Each individual will be responsible for providing their own covering; however, additional masks will be on hand in case of breakage or if a mask becomes dirty. Class sizes may be reduced for Social Distancing, and hand washing is encouraged before, during and after class.
John Gresens
| Date | Day | Time | Location |
| --- | --- | --- | --- |
| 01/09/2024 | Tuesday | 7 PM to 9:30 PM | RM 08 |
| 01/16/2024 | Tuesday | 7 PM to 9:30 PM | RM 08 |
| 01/23/2024 | Tuesday | 7 PM to 9:30 PM | RM 08 |
| 01/30/2024 | Tuesday | 7 PM to 9:30 PM | RM 08 |
| 02/06/2024 | Tuesday | 7 PM to 9:30 PM | RM 08 |
| 02/13/2024 | Tuesday | 7 PM to 9:30 PM | RM 08 |
| 02/20/2024 | Tuesday | 7 PM to 9:30 PM | RM 08 |
| 02/27/2024 | Tuesday | 7 PM to 9:30 PM | RM 08 |
| 03/05/2024 | Tuesday | 7 PM to 9:30 PM | RM 08 |
| 03/12/2024 | Tuesday | 7 PM to 9:30 PM | RM 08 |