Online Registration
ANYONE CAN LEARN TO DRAW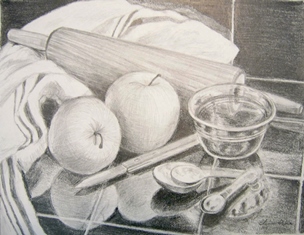 Perfect for students at all levels who want to learn drawing fundamentals so they can improve their drawing and painting skills. The class will start with simple exercises and expand into finished drawings. You'll be guided through easy methods to accurately represent line, proportion, depth, shadows and texture working with graphite and charcoal. A $10.00 Materials Fee is PAYABLE TO THE INSTRUCTOR for all course supplies, or bring your own supplies. See spruillarts.org for information regarding the instructor and additional details regarding supplies.
Sharon Weiss
pastelsharon@yahoo.com
Sharon's Upcoming Classes

Sharon Weiss teaches Anyone Can Learn to Draw, a Pastel Workshop, Get to Know Printmaking, Get to Know Watercolor Pencils, Pet Portraits, Muffins and Memorable Fall Landscapes, Sketching with Ink and Watercolor, You Can Easily Create Your Own Website, Workshops based on the styles of Van Gogh, Monet, Matisse, Cezanne and Georgia O'Keeffe, and several Teen Workshops. She uses a structured step-by-step approach with detailed written instructions and hints. She brings many examples and provides lots of individual guidance that applies to all ability levels.
You can see examples of her work at:
www.sharonweissart.com
www.etsy.com/shop/sharonweissart
www.instagram.com/pastelsharon
www.facebook.com/sharonweiss.319
Sharon graduated from UCLA (cum laude) with a B.A. degree in pictorial arts and teaching credential in art education. She taught adult education painting classes in the San Diego area and has taught drawing, painting, pastel and watercolor pencil classes at the Spruill Center for the Arts since 2003. She enjoys sharing her knowledge with others, particularly those who have day jobs but would like to learn to paint and draw. She believes anyone can learn to paint and draw with sufficient motivation and instruction.
Her pastel painting, "Pomegranate Pair" won first place in the Faculty category for Spruill Gallery's 2013 Student and Faculty Juried Show, and her pastel painting, "Gala Occasion", won an honorable mention in the 2015 show. Sharon's artwork has been featured at the Spruill Gallery, Swan Coach House Gallery, Art Walk at Lenox Square, and other venues. One of her landscape paintings was reproduced on a patient care brochure for the Amyotrophic Lateral Sclerosis Association. Another painting was reproduced on a floor mat sold at Bed, Bath, and Beyond.
Sharon had a full corporate career as a health care software designer and retired in September 2016 to pursue art full time. She brings her methodical structured approach from years of writing software specifications and corporate training to art instruction so that even novices can learn to create successful artwork.
Her paintings are in many private collections across the country. Although she is known for her vivid food portraits, she also paints landscapes, florals, pet portraits and non-traditional abstracts.
| Date | Day | Time | Location |
| --- | --- | --- | --- |
| 01/14/2024 | Sunday | 1 PM to 4 PM | RM 210 |
| 01/21/2024 | Sunday | 1 PM to 4 PM | RM 210 |
| 01/28/2024 | Sunday | 1 PM to 4 PM | RM 210 |