Online Registration
BEGINNING KNITTING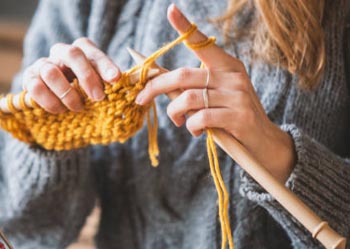 Learn the fundamentals of knitting such as casting on, the garter stitch (also known as the knit stitch) and binding off. The project for the workshop will be a knitted coaster with fringe. Students will leave understanding the basics of knitting and be well on their way to knit scarves, dishcloths and so much more! Ideal for beginners or those who need a little refresher. ALL TOOLS AND SUPPLIES ARE INCLUDED.
Amy Gresens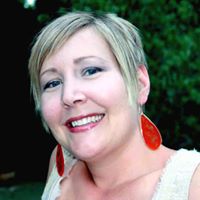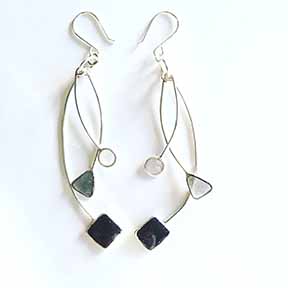 amygresens@yahoo.com
Amy's Classes


Amy Gresens teaches Beginning Jewelry & Metalsmithing, Beyond the Basics: Design & Fabrication in Metal, Knitting 101 & 102. Her teaching style is relaxed and casual. She likes to encourage her students to find their creativity and guide them along this path. For more examples of her work, please visit:
Amy is an Atlanta-based artist who has spent the last 20 years experimenting with a variety of media. Her early explorations into photography and sculpture informed her passion for capturing and revealing beauty within the third dimension. Amy's favorite artist is Alexander Calder. She loves the movement of his pieces. He is a big influence in a lot of her jewelry designs.
The last ten years have found Amy crafting fabulous adornments in precious metals. A distinct characteristic of her jewelry designs is the incorporation of vibrant color tinted resin or felt. Amy finds that the fusion of metals and rich colored alternative materials create dynamic contrasts and spatial relationships that are truly unique. She says she gets so much joy from making that she wanted to share the process with others. She loves seeing her students develop their own creative style.
Amy has exhibited her jewelry at the High Museum of Art and is currently showing her work at the Decatur Gallery, Spruill Gallery and the Beehive boutique. She also participates in several Atlanta area art shows, such as the Piedmont Park Arts Festival, Inman Park Arts Festival, Indie Craft Experience and Chastain Park Arts Festival to name a few.
Amy's home is a beacon for all lost animals. She currently has 3 cats and 2 dogs, most of whom just showed up on her front porch. She once even had a flock of chickens show up! Currently the "No Vacancy" sign is on.