Online Registration
BEGINNING GLASS BEADMAKING
Learn basic flameworking techniques using an oxygen/propane torch to make glass beads. Students will learn through lecture, demos and hands-on experience. They will also benefit from working alongside more seasoned flameworkers as they learn in this exciting studio setting. Supplies needed (glass rods: approximate cost $10 - $30) will be discussed at the first class. Students are requested to wear natural fiber clothing with long sleeves, and must be 18 or older. This class is not for pregnant women.
Margo Knight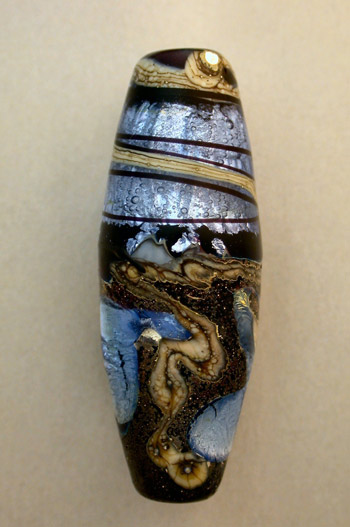 (404) 881-7268
danceswithflame@gmail.com
Margo's Classes


Margo Knight has been working with hot glass since 2000 when she took her first lampworking class from Deanna Griffin-Dove at Spruill Center for the Arts. Since that time she has taken classes from many of the masters of glass beadmaking, including Tom and Sage Holland, Michael Barley, Andrew Guarino, Leah Fairbanks, Heather Trimlett, Stevi Belle, Patti Walton, Larry Scott, Dustin Tabor, Bronwen Heilman, and many others. One of Margo's beads was juried into the International Society of Glass Beadmaker's Obsession catalog and auction which was held in connection with the ISGB's 10th Anniversary Gathering in Arlington, Virginia, in 2002. In addition, her beads appear in 1000 Glass Beads published by Lark Books in 2004 and in other publications, and she was selected as a juror for the first annual Bead Review published in 2005. Margo is a member of the International Society of Glass Beadmakers and an active member and past co-president of its Atlanta chapter, the Southern Flames. Margo has been teaching glass beadmaking classes at the Spruill Center since 2002.
| Date | Day | Time | Location |
| --- | --- | --- | --- |
| 01/06/2024 | Saturday | 12 N to 2:30 PM | RM 07 |
| 01/13/2024 | Saturday | 12 N to 2:30 PM | RM 07 |
| 01/20/2024 | Saturday | 12 N to 2:30 PM | RM 07 |
| 02/03/2024 | Saturday | 12 N to 2:30 PM | RM 07 |
| 02/10/2024 | Saturday | 12 N to 2:30 PM | RM 07 |
| 02/17/2024 | Saturday | 12 N to 2:30 PM | RM 07 |
| 02/24/2024 | Saturday | 12 N to 2:30 PM | RM 07 |
| 03/02/2024 | Saturday | 12 N to 2:30 PM | RM 07 |