Online Registration
INTERMEDIATE METAL CLAY: CHEESE CLOTH AND CORK FREEFROM PENDANTS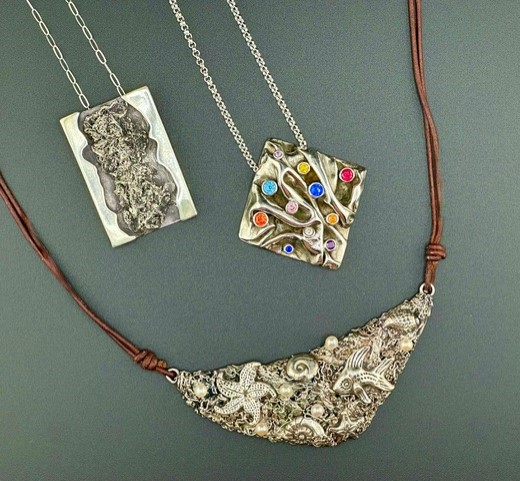 In this intermediate / advanced silver metal clay class, we will talk about different freeform techniques. We will start with cheesecloth, draping clay and cork forms. Get ready to let your imagination go wild!

There will be a $20 Kit fee. Kit fee payable by cash or check to teachers at the first class.

You will need at least 25gms of ART Clay Brand fine silver clay. Please bring a long-term clay keeper, so unused clay doesn't dry out, as well as a container of uncooked rice to transport your greenware pieces back and forth from school. Student toolboxes will be available to use in the classroom. We do suggest optivisiors and an apron.

***Please contact Janell or Jackie before class for details on cheesecloth prep for class.
Jacqueline Comet
Janell Stephen
| Date | Day | Time | Location |
| --- | --- | --- | --- |
| 02/01/2024 | Thursday | 10 AM to 1 PM | RM 03 |
| 02/08/2024 | Thursday | 10 AM to 1 PM | RM 03 |
| 02/15/2024 | Thursday | 10 AM to 1 PM | RM 03 |
| 02/22/2024 | Thursday | 10 AM to 1 PM | RM 03 |
| 02/29/2024 | Thursday | 10 AM to 1 PM | RM 03 |
| 03/07/2024 | Thursday | 10 AM to 1 PM | RM 03 |
| 03/21/2024 | Thursday | 10 AM to 1 PM | RM 03 |
| 03/28/2024 | Thursday | 10 AM to 1 PM | RM 03 |