INT/ADV METAL CLAY: ENAMELING ON SILVER CLAY
Save $20.00 with a 2022 Membership - New and Renewal of unexpired 2021 memberships
Course Number:
201JEMC235
Dates:
Tuesday, January 7 - February 25, 2020
Check for other dates or times
Meets:
6:30 PM to 9:30 PM 8 sessions
Fee:
$340.00Fee Breakdown
Notes:
IMPORTANT: Do NOT bring any PEANUT products to class. Pam East is deathly allergic to peanuts and even the smell can cause problems. She is not allergic to other tree nuts, so those are fine.
More Course Info:
Supply List
Sorry, we are no longer accepting registrations for this course. Please contact our office to find out if it will be rescheduled, or if alternative classes are available.
This course ended on February 25, 2020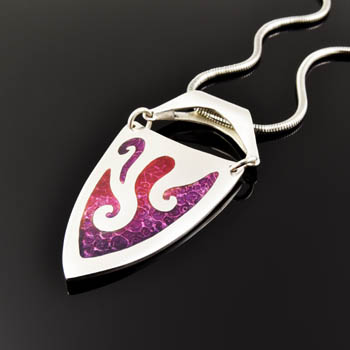 Description
Enameling is the art of applying glass to metal. Learn how to create deep, rich color on your metal clay First-rate reds, perfect purples, peerless pinks. Get ready for getting great results with warm colors on silver clay! You'll learn what to look for when constructing metal clay pieces for enamels and proper firing for high enameling success. Then we'll dive into how to get great results and shading with warm color leaded enamels. Unlock the full enameling spectrum! A Materials fee of $20 is PAYABLE TO THE INSTRUCTOR at the first session. Please see the supply list at www.spruillarts.org for an overview of what the material fee covers and what you will need to bring. IMPORTANT: Do NOT bring any PEANUT products to class. Pam East is deathly allergic to peanuts and even the smell can cause problems. She is not allergic to other tree nuts, so those are fine.