BEGINNING/INTERMEDIATE/ADVANCED FIGURE DRAWING
Save $20.00 with a 2022 Membership - New and Renewal of unexpired 2021 memberships
Sorry, this course is closed (full).
Advanced Registration for
Members
, opens:
Tuesday, November 9, 2021 (Ceramics only)
Wednesday, November 10, 2021 (Ceramics + Jewelry only)
Thursday, November 11, 2021 (All Departments).]+[],[])) %-->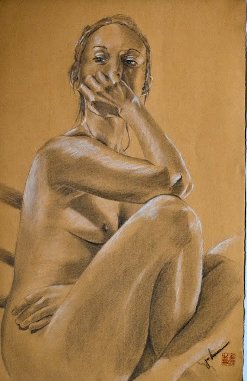 Description
A follow-up class building further on the issues of representational drawing, draftsmanship & relationships for beginning to advanced figure drawing students. NOTE: SOME PREVIOUS DRAWING EXPERIENCE REQUIRED TO TAKE THIS COURSE. Students explore spatial relationships & volumetrics while noting and learning the bonds between edges & mass, observation & experimentation & while developing a strong ability to see, compose, understand and dynamically render the body. All drawing media are acceptable (charcoal, color pencils, pastels, conte, ink & watercolor) to describe the body's physical structure, attitude, proportion, dynamics & tension. Live models in all classes. MODEL FEES ARE COLLECTED BY THE INSTRUCTOR AT THE FIRST CLASS. Past student work can be seen at my website on student gallery pages. See www.spruillarts.org for a list of supplies you will need to bring to class.