EVEN MORE BEZELS- CUT-TAB BEZELS
Save $20.00 with a 2022 Membership - New and Renewal of unexpired 2021 memberships
Sorry, we are no longer accepting registrations for this course. Please contact our office to find out if it will be rescheduled, or if alternative classes are available.
Advanced Registration for
Members
, opens:
Tuesday, November 9, 2021 (Ceramics only)
Wednesday, November 10, 2021 (Ceramics + Jewelry only)
Thursday, November 11, 2021 (All Departments).]+[],[])) %-->
This course ended on October 3, 2021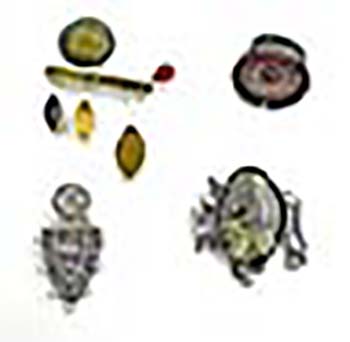 Description
In this fun and focused workshop, discover the world of fabricated cut-tab bezels. Cut-tab bezels offer a bold and protective modern style that can be personalized and provide another option in your jewelry designs for setting a large variety of stones, including "challenging" stones that are tall, uneven, druzy, delicate, and unusual. Topics include object parameters, structural and soldering considerations, design and setting possibilities for creating more dynamic jewelry. Students will be able to complete at least one finished bezel jewelry piece. We will take a 30 minute lunch break. See www.spruillarts.org for a list of supplies you will need to bring to class. FYI- Joanne is still excitingly making, working, teaching and always learning about art jewelry for 25+ years. For more info and images, please visit www.joannehernandezmetals.com. PREREQUISITE: Three Beginning Jewelry and Metalsmithing classes at the Spruill Center for the Arts or permission of the instructor.