Online Registration
WHEEL - ALL LEVELS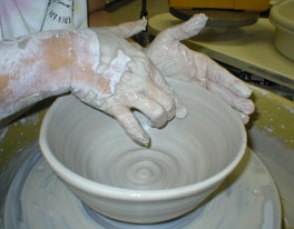 Sorry, we are no longer accepting registrations for this course. Please contact our office to find out if it will be rescheduled, or if alternative classes are available.
This course ended on December 9, 2022
Beginning students will learn the basic principles of making pottery forms on the wheel. Students will learn throwing, trimming and glazing techniques. More advanced students will continue to develop these techniques and concentrate on individual projects and expression. An optional tool kit is available for a $10 fee, PAYABLE TO THE INSTRUCTOR during the first class. See spruillarts.org for additional details regarding supplies.
Maydelle (May) Lucas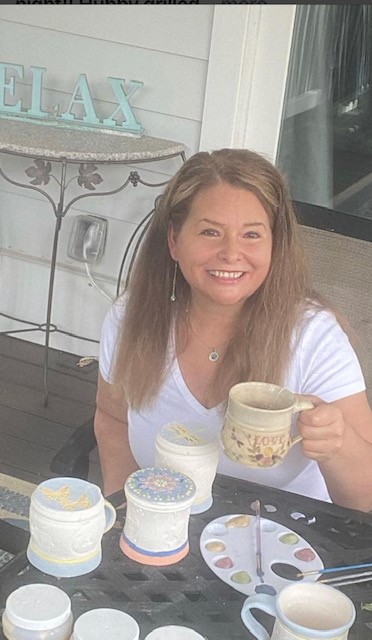 elegantandearthy@gmail.com
May's Classes


May is a ceramics enthusiast! She hasn't seen a treatment she hasn't tried. May began practicing ceramics 8 years ago and has learned from the very best educators. She studied in Grimsby England from a world renowned bird pie ceramist, Donna Peterson at Peterson Pottery. She has also attended classes stateside in Pennsylvania, North Carolina, and several places in Georgia, including our very own Spruill Center for the Arts.
May emphasizes exploration and trusting our individual inner creativity to lead us to our own unique artful expression. May enjoys teaching new/beginning students the fundamentals of throwing and how to become comfortable with clay. She also enjoys sharing her unique expression in clay with advanced students demonstrating a variety of treatments and techniques to embellish thrown pieces using various tools and skills. To name a few techniques: slip trailing, sprig molds, impressions, stencils, silk screens, decals, tissue paper transfers, kintsugi, wheel assist forms and molds, carving (both molds and Potts) surface texture molds, Trompe l'oeil, colored clay, colored slips, China paints, lusters, etc…
May has created a number of her own favorite tools as well as developed a number of her own unique treatments. If you are new and looking for an instructor or advanced and looking for a new way to embellish your Potts try May's class.
See May's work on Instagram: @ElegantAndEarthyDecorPottery
| Date | Day | Time | Location |
| --- | --- | --- | --- |
| 09/23/2022 | Friday | 9:30 AM to 12 N | RM 08 |
| 09/30/2022 | Friday | 9:30 AM to 12 N | RM 08 |
| 10/07/2022 | Friday | 9:30 AM to 12 N | RM 08 |
| 10/21/2022 | Friday | 9:30 AM to 12 N | RM 08 |
| 10/28/2022 | Friday | 9:30 AM to 12 N | RM 08 |
| 11/04/2022 | Friday | 9:30 AM to 12 N | RM 08 |
| 11/11/2022 | Friday | 9:30 AM to 12 N | RM 08 |
| 11/18/2022 | Friday | 9:30 AM to 12 N | RM 08 |
| 12/02/2022 | Friday | 9:30 AM to 12 N | RM 08 |
| 12/09/2022 | Friday | 9:30 AM to 12 N | RM 08 |