Online Registration
BACK TO SPRUILL: INTRODUCTION TO TORCH-FIRED ENAMELS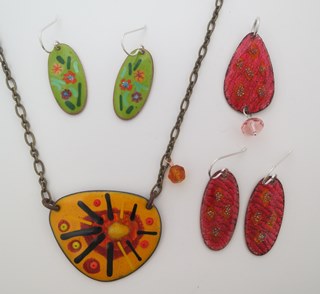 Sorry, we are no longer accepting registrations for this course. Please contact our office to find out if it will be rescheduled, or if alternative classes are available.
This course ended on September 11, 2022
Please note: this course has Prerequisites
Come have fun and discover the color, pattern and magic of enameling with torch-firing. Most jewelers may have access to a fuel torch for soldering, usually quite before they want or need to commit to a kiln, and thus can expand jewelry techniques using existing equipment and workspaces. We will learn the basics of glass on metal with both opaque and transparent enamels applied by both sifting and wet application. We will create designs and patterns with stencils, foils, stringers, glass seed beads, frit and intentional over-firing for oxidation effects. Students will make several enamel "cabochons" that can be set or adapted in earrings, pendant/centerpieces, bracelets and rings. Information will be given to concepts, structure and options to assist student's practical understanding of the many choices available in making jewelry enamels. Firing enamel with a beehive kiln will be demonstrated as well.
Materials are included in the Materials Kit Fee of approximately $40.00
PAYABLE TO THE INSTRUCTOR
at the time of the workshop. We will take a lunch break.
PREREQUISITE: Two Beginning Jewelry and Metalsmithing classes or basic experience with acetylene/air torch or by permission of the instructor.
Joanne Hernandez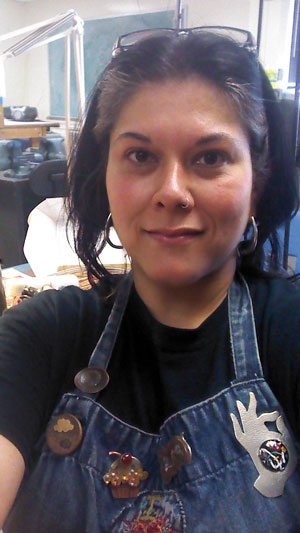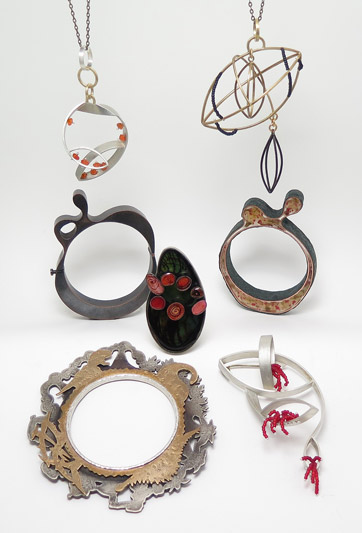 joanne@joannehernandezmetals.com
Joanne's Classes


An Atlanta native, Joanne received a B.F.A in Jewelry Design and Metalsmithing with honors from Georgia State University in 1997. She learned traditional metalsmithing techniques under strict instruction of Richard Mafong, and after demonstrating a natural and quick ability she became his studio assistant and fill-in teacher for both lower and upper level classes. During this time, she received various awards for her artwork; her jewelry, vessels, and teapots have been in many shows, exhibits, and auctions around the Atlanta area.
Joanne was employed by Ricky Frank, well-known and celebrated cloisonne enamelist, as his primary jeweler and goldsmith from 1997 to 2013. Obviously an art jewelry dream job, it allowed her to learn about all facets of art jewelry production and business, work with high karat golds and beautiful gemstones, teach/train all new employees, and hone her skills in fabrication and finishing. Until the mid 2000's, she mostly expressed her artistic voice through drawing, painting, sculpture, and textiles.
In 2006, she began focusing on and developing her metalwork, and has been selling her jewelry and custom commissions ever since. Her style and design vary as much as her influences, and she sells her creations through her appropriately named "RecklessEyeStudio" Etsy store. Her metalwork is marked by a love of color and contrast, strong and unusual design, and reflects an arsenal of techniques, love of problem-solving, and belief in beautiful craftsmanship. Her organic designs fluctuate between the literal and surreal, where things are shifting and constantly reminiscent, where all her work has a life of it's own.
When she is not teaching, working on jewelry and commissions, she love sewing, knitting, embroidering, dyeing wool yarn, and keeping her cat, Yuki Yum-Yum, away from all the tempting threads these activities create. Also, her new fascination and delight is with hand-built ceramics. Also, Joanne skated with the Atlanta Rollergirls for 2 1/5 years, shortly with her team, Saki Tuyas, and mostly as a bout referee.
She feels honored and thrilled to teach at the Spruill Center of the Arts, and is currently the Jewelry Department Coordinator. She loves sharing her knowledge, skills and love of the craft with her students. And, honored to create objects with which people connect, and that become a part of their daily life and history.
| Date | Day | Time | Location |
| --- | --- | --- | --- |
| 09/10/2022 | Saturday | 10 AM to 5:30 PM | RM 09 |
| 09/11/2022 | Sunday | 10 AM to 5:30 PM | RM 09 |