Online Registration
BEYOND THE BASICS: DESIGN AND FABRICATION IN METAL
This class guides students as they transition from beginning level metalsmithing techniques to an intermediate level of design and fabrication. Students will work on more complex, instructor-guided projects, furthering their fabrication skills, craftsmanship and design sense. Projects and demonstrations vary each quarter and may include mechanisms such as hinges, clasps, findings, and surface design techniques. PREREQUISITE: Three Beginning Jewelry and Metalsmithing classes at the Spruill Center for the Arts, or by permission of the instructor.
Susan Saul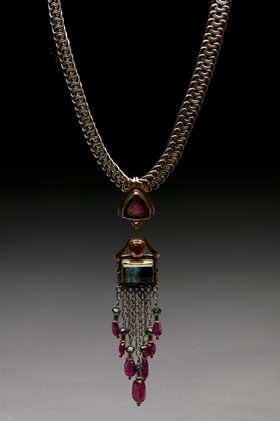 susancsaul@gmail.com
Susan's Classes


After many years as a visual artist working in printmaking, textiles, costume jewelry and large-scale paper and mixed media, I "came home" to metalsmithing about 25 years ago. What I love, aside from the hands-on nature of the work and the opportunity to be a tool-collecting nerd, is the fact that human relationships are essential to my product. Meticulously crafted jewelry pieces contain the energy and intentions of the maker, yet are only really alive and complete when worn on the body. The materials and design features interact with the wearer producing personal, subjective sensations.
If there is any one concept that inspires and infuses my work it is the expression of the feminine face of the divine in the physical world. In my view it can only enhance the overall quality of life on earth to support and empower the feminine energies of compassion, cooperation and balance.
Susan has a BA in Fine Art from University of California, Santa Barbara. She lives in Atlanta with her husband Steven and their two cats. She has taught jewelry and metalsmithing classes and workshops since 1999 at the Spruill Center for the Arts in Dunwoody, Georgia and has also taught for Penland School of Craft, Florida Society of Goldsmiths and Idyllwild Academy for the Arts. She currently makes her jewelry magic in her one-person studio, aka "the woman cave".
You can view a sampling of her work at www.susansauldesign or on her Susan Saul Design Facebook page.
| | |
| --- | --- |
| | |
Susan's website: http://www.susansauldesign.com/
| Date | Day | Time | Location |
| --- | --- | --- | --- |
| 09/27/2023 | Wednesday | 10 AM to 1 PM | RM 09 |
| 10/04/2023 | Wednesday | 10 AM to 1 PM | RM 09 |
| 10/18/2023 | Wednesday | 10 AM to 1 PM | RM 09 |
| 10/25/2023 | Wednesday | 10 AM to 1 PM | RM 09 |
| 11/01/2023 | Wednesday | 10 AM to 1 PM | RM 09 |
| 11/08/2023 | Wednesday | 10 AM to 1 PM | RM 09 |
| 11/15/2023 | Wednesday | 10 AM to 1 PM | RM 09 |
| 11/29/2023 | Wednesday | 10 AM to 1 PM | RM 09 |
| 12/06/2023 | Wednesday | 10 AM to 1 PM | RM 09 |
| 12/13/2023 | Wednesday | 10 AM to 1 PM | RM 09 |