Online Registration
WHEEL - ALL LEVELS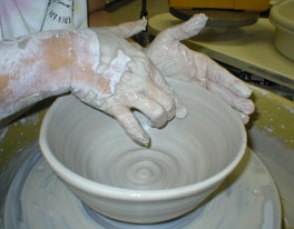 Sorry, we are no longer accepting registrations for this course. Please contact our office to find out if it will be rescheduled, or if alternative classes are available.
Beginning students will learn the basic principles of making pottery forms on the wheel. Students will learn throwing, trimming and glazing techniques. More advanced students will continue to develop these techniques and concentrate on individual projects and expression. An optional tool kit is available for a $10 fee, PAYABLE TO THE INSTRUCTOR during the first class. See spruillarts.org for additional details regarding supplies.
Denise Knaggs
Maydelle (May) Lucas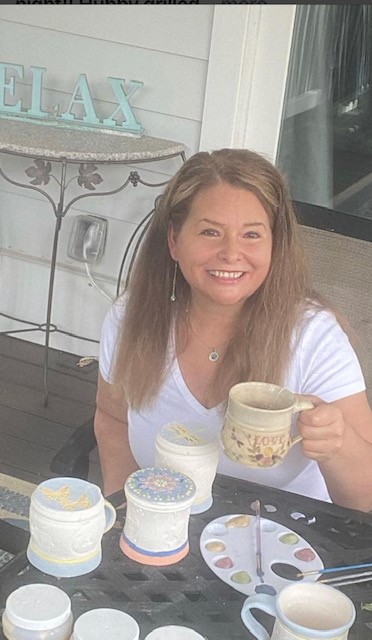 elegantandearthy@gmail.com
May's Classes


May is a ceramics enthusiast! She hasn't seen a treatment she hasn't tried. May began practicing ceramics 8 years ago and has learned from the very best educators. She studied in Grimsby England from a world renowned bird pie ceramist, Donna Peterson at Peterson Pottery. She has also attended classes stateside in Pennsylvania, North Carolina, and several places in Georgia, including our very own Spruill Center for the Arts.
May emphasizes exploration and trusting our individual inner creativity to lead us to our own unique artful expression. May enjoys teaching new/beginning students the fundamentals of throwing and how to become comfortable with clay. She also enjoys sharing her unique expression in clay with advanced students demonstrating a variety of treatments and techniques to embellish thrown pieces using various tools and skills. To name a few techniques: slip trailing, sprig molds, impressions, stencils, silk screens, decals, tissue paper transfers, kintsugi, wheel assist forms and molds, carving (both molds and Potts) surface texture molds, Trompe l'oeil, colored clay, colored slips, China paints, lusters, etc…
May has created a number of her own favorite tools as well as developed a number of her own unique treatments. If you are new and looking for an instructor or advanced and looking for a new way to embellish your Potts try May's class.
See May's work on Instagram: @ElegantAndEarthyDecorPottery
Dana Shelton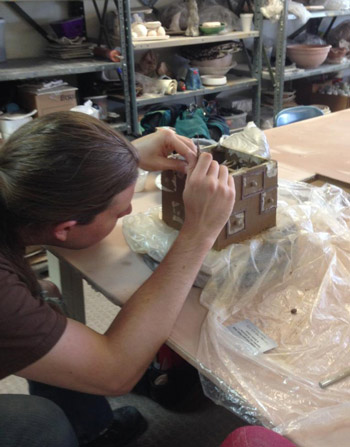 sheltond9@gmail.com
Dana's Classes


Dana Shelton teaches Handbuilding in the pottery department. Her teaching style is a mixture of demos (every class, she demos a project: decorating technique, glazing style, or some other pottery related item), hands-on interaction (she walks around and checks on each student, helping where needed, making sure everyone receives the attention and help they require), independent study (each student works on the type of project they wish, whether it be based on a demo she's given, or something else they wish to explore), and humor (Dana feels the students should have fun in the class and not be stressed).
Art in it's many forms has always been a passion of Dana's. But after taking her first wheel class at Spruill Center for the Arts, and following it with the handbuilding classes, she had found a new endeavor. Ceramics was a medium where your canvas could take any shape you liked, from simple 2-D pieces to complex 3-D constructions. And they could range from functional pieces like plates and planters to decorative only pieces like wall hangings and sculptural art.
Her first foray into teaching ceramics came when she filled in for an injured instructor for the quarter to teach the wheel class. After that, she was hooked. Being able to share and pass on the knowledge she's gained felt wonderful. Dana became an official instructor for the Spruill Center for the Arts, teaching handbuilding in 2016. There she teaches and demonstrates many different techniques for creating, decorating, and glazing pieces, from different carving and shaping styles to firing methods like raku and saggar. She really enjoys seeing the students progress and grow, plus, the excitement a student has when they are happy about a finished piece is heart-warming.
Of course, when she's not working in pottery, there are always other artistic endeavors to tackle. Or, she can just dream of new ceramic creations and experiments. She looks forward to bringing out the love of clay with her students and pushing them further with new ideas.
Her favorite artists are Leonardo Da Vinci, because he crossed multiple disciplines, from art and architecture to engineering and science, and Georgia O'Keeffe, because of her understanding of lighting, shadows, and minute details, the ability to incorporate realism into the abstract, and the ability to expand her style.
| Date | Day | Time | Location |
| --- | --- | --- | --- |
| 04/07/2023 | Friday | 9:30 AM to 12 N | RM 08 |
| 04/14/2023 | Friday | 9:30 AM to 12 N | RM 08 |
| 04/21/2023 | Friday | 9:30 AM to 12 N | RM 08 |
| 04/28/2023 | Friday | 9:30 AM to 12 N | RM 08 |
| 05/05/2023 | Friday | 9:30 AM to 12 N | RM 08 |
| 05/12/2023 | Friday | 9:30 AM to 12 N | RM 08 |
| 05/19/2023 | Friday | 9:30 AM to 12 N | RM 08 |
| 05/26/2023 | Friday | 9:30 AM to 12 N | RM 08 |
| 06/02/2023 | Friday | 9:30 AM to 12 N | RM 08 |
| 06/09/2023 | Friday | 9:30 AM to 12 N | RM 08 |