There are still openings remaining at this time.
A valid credit card will be required for payment. Please have your card information ready.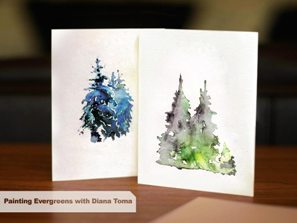 Description
Relax this holiday season while painting beautiful one-of-a-kind small size artworks that can also be used as holiday cards to gift to your friends and family. Join European artist Diana Toma for a couple of hours of delightful watercolor painting, and learn the art of painting evergreen trees. About 6 artworks can be created in this workshop.
Bring your own supplies or pay $10 directly TO THE INSTRUCTOR to use her materials.
See www.spruillarts.org for a list of supplies you will need to bring to class.