ART CLAY SILVER LEVEL 1 CERTIFICATION
Save $20.00 with a 2021 Membership - New and Renewal of unexpired 2020 memberships
Please note: this course has Prerequisites
Course Number:
194SWMC500
Dates:
M, Tu, W, Th, F, September 9-13, 2019
Check for other dates or times
Meets:
10:00 AM to 5:00 PM 5 sessions
Instructor:
Pam East
Fee:
$520.00Fee Breakdown
Notes:
IMPORTANT: Do NOT bring any PEANUT products to class. Pam East is deathly allergic to peanuts and even the smell can cause problems. She is not allergic to other tree nuts, so those are fine.
More Course Info:
Supply List
Sorry, we are no longer accepting registrations for this course. Please contact our office to find out if it will be rescheduled, or if alternative classes are available.
This course ended on September 13, 2019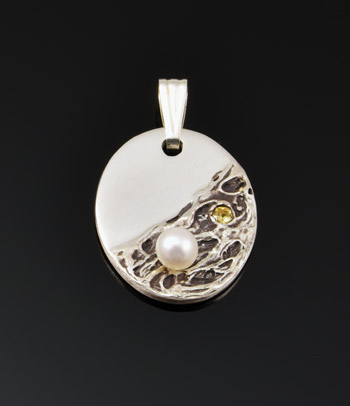 Description
Are you ready to take your metal clay skills to the next level? This is the course for you! This intensive, in-depth 5-day course will provide you with a solid foundation in a broad variety of silver clay techniques. The curriculum consists of seven projects, including use of organic forms, creating flat and round-shank rings, addition and firing of gemstones, pearl setting, creating a mirror finish, and much more. Each project was developed to teach specific skill sets. Students successfully completing certification will be eligible for a 30% discount on Art Clay Silver on future purchases. Pre-Requisite: At least one previous metal clay class. A non-negotiable kit fee of $360 is payable TO THE INSTRUCTOR in class and covers all the materials for the seven certification projects. See www.spruillarts.org for a list of supplies you will need to bring to class.