PAINTING PORTRAITS LOOSELY ALLA-PRIMA IN OILS -1 day session
To purchase or renew a membership now, click this link:
2021 Membership - New and Renewal of unexpired 2020 memberships or 2022 Membership - New and Renewal of unexpired 2021 memberships

There are still openings remaining at this time.
Summer Camp 2021 Registration is now open.
Summer Quarter 2021 Regular Classes:
Non-camp Advanced Registration for Members, opens:
Tuesday, April 20, 2021 (Ceramics only)
Wednesday, April 21, 2021 (Ceramics + Jewelry only)
Thursday, April 22, 2021 (All Departments).
Non-Camp Registration for Members and Non-members, opens:
Friday, April 23, 2021 (All departments)
Online registration is not available at this time. Please contact our office for more information.
Support Person: Registrar Phone: 770.394.3447 x 0 Email: registration@spruillarts.org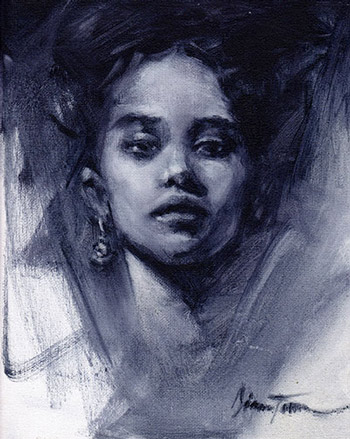 Description
Discover the excitement of painting a portrait loosely, capturing the facial expression, learning technique tips along the way. This workshop is an excellent opportunity to release creative blockage, and liberate yourself from the fear of wrong doing. The course is appropriate for advanced beginners, intermediates and advanced. A demonstration will be performed at the session, and individual guidance offered as you progress with your artwork. A photo reference will be provided for each participant in the class (bring your own photo if you prefer, print it out fit-to-page on a letter size). Visit www.spruillarts.org for more information about award-winning visual artist Diana Toma and see the course registration page for a list of supplies you will need to bring to class.