Online Registration
"Bloom Your Self" INTUITIVE PAINTING WORKSHOP WITH DIANA TOMA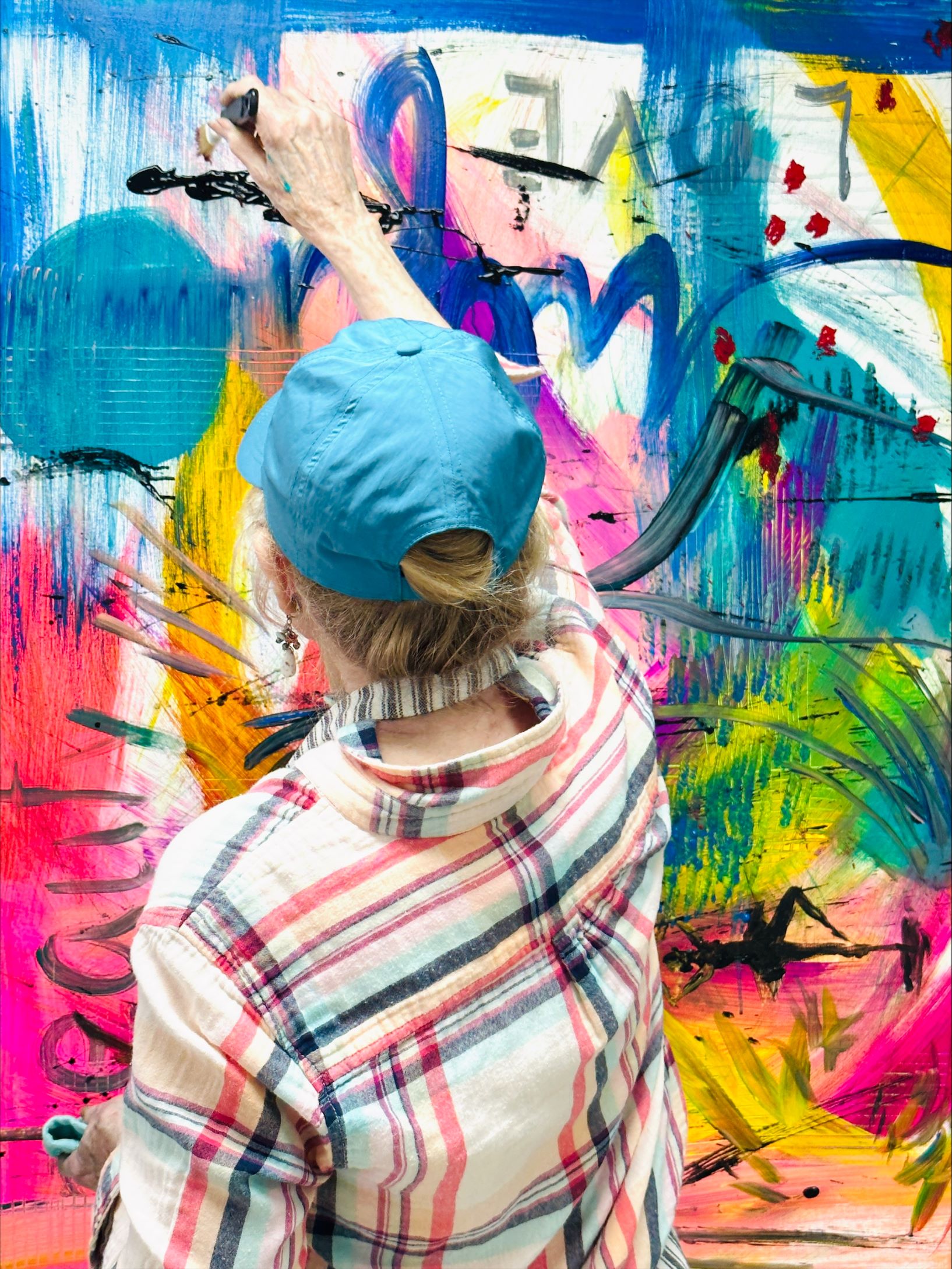 Join award-winning European artist Diana Toma in exploring the art of Intuitive Painting. This workshop is about letting go of inhibitions and plunging into your own inner creative volcano. Practice expressing yourself on a large surface: splashing, smudging, layering, stretching across the canvas, and trusting the process, all while empowering yourself. This workshop might just change the way you approach painting! NO EXPERIENCE NECESSARY, ALL LEVELS ARE WELCOME, from first-time painters to advanced professionals.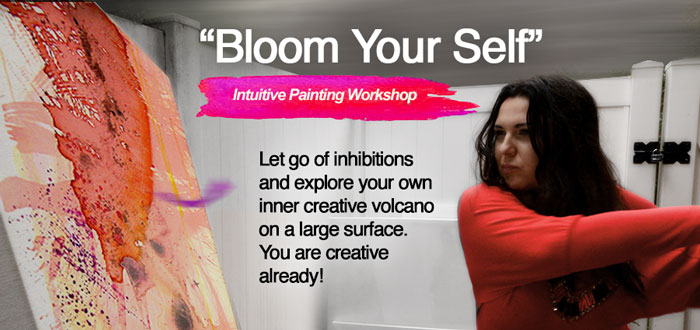 All you need is an open mind. Trust. You are creative already!
Paint supplies are included in the $20 materials fee
PAYABLE TO THE INSTRUCTOR AT THE WORKSHOP.
Just bring 2 acrylic brushes and a large size canvas (36"x48" recommended).
See www.spruillarts.org for a list of supplies you will need to bring to class.
Diana Toma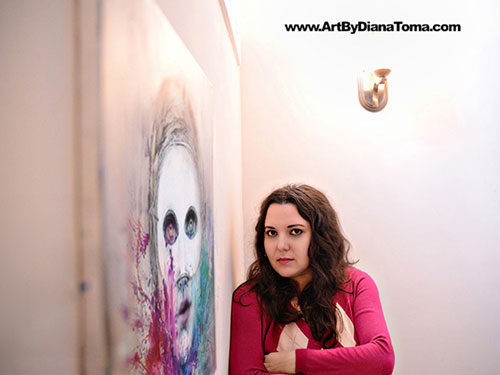 diana@artbydianatoma.com
Diana's Classes


Diana Toma teaches watercolor, acrylic and oil painting classes for adults, themed on different subject matters such as portraits, wildlife, cityscapes, gardens, and intuitive painting.
Diana says of her teaching style, "My classes are centered around fast, free-flowing painting release, and creative un-blockage. One of the things that I encourage my students to do is to create more from the heart and less from the head, letting go of any fear or self judgement. As my student you will walk away feeling so much better about creating your art. You will feel much loose and free, not just in painting but also in life. My workshops and classes are a safe place of investigation where you will learn to connect with your inner creative volcano. Experimenting and failing is a necessary part of the artistic journey.
See, it really goes like this: no failing, no progress. When you let go of self judgement, you create a space where creativity can truly flourish. And I concur with the way Scott Adams was inspired to put it: "Creativity is allowing yourself to make mistakes. Art is knowing which ones to keep."
I am a firm believer that anyone can learn to paint if they have the willingness to practice, given the right kind of instructions. Have you ever come to a point in painting where you are afraid that your work is not perfect, or that you need to already have some extraordinary artistic talent in order to achieve that perfect painting? Maybe you are afraid to even try painting because you think you lack what it takes? Well I'm here to tell you that's not how it works at all; in fact, art is all about self-expression, letting go of the thoughts who block it, and allowing the imperfections, the mistakes, the unknown to unravel and reveal itself in your work process. Even more, some of the most fascinating works of art are a result of play and serendipitous accidents.
To me teaching is a privilege to be the first-class witness to delightful discoveries and growth. I'm excited to have embarked on the journey of being part of another's artistic development - it contributes to me becoming a better artist by demonstrating techniques, doing research for my classes, and having important conversations with the participants about art and the artistic process.
My classes are open to all levels, from first time painters to advanced and professionals."
You can see more of Dian's work on:
www.facebook.com/artbydianatoma
www.instagram.com/ArtByDianaToma
You may also find on other social media platforms @ArtByDianaToma.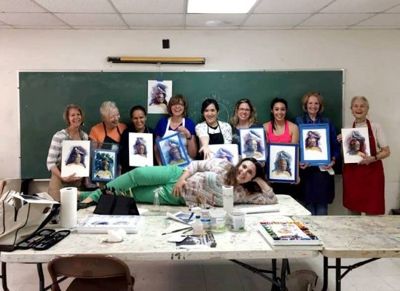 Diana Toma is an award winning Romanian visual artist currently teaching and creating in Atlanta, Georgia. Influenced by the European culture in which she was raised and enriched with American flavor; her style arrived at a unique cross that blends traditional techniques in a contemporary approach.
She has been engaging with the art community since 1995 showcasing her work in over a hundred Group Exhibitions & six Solo Art Shows. Holding a master's degree in fine arts from the prestigious Romanian University of Art and Design in Cluj-Napoca, Diana is the Southeast coordinator for International Watercolor Society, USA Chapter and the demonstration chair for Georgia Watercolor Society. In 2015 Diana became the grand prize winner of the Michaels Springtime in Paris, a national contest with over 11,000 submissions. Between 1995 and 2019, Diana won an array of awards, locally and at the national level. Her artwork has been showcased in art magazines, billboards, and in acquisitions for showing in public spaces. Diana has recently completed an artist residency at Anne O Art gallery in Buckhead, followed by her biggest solo art show, showcasing 75 paintings created in the residency year. Diana also teaches painting classes for adults at Spruill Center for the Arts in Atlanta area, and Abernathy Arts Center in Sandy Springs, as well as at other art centers within US.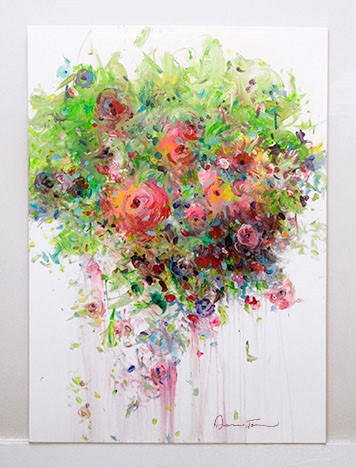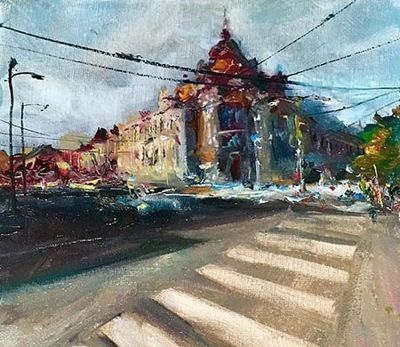 Diana is a full-time artist; alongside teaching, she makes a living out of selling her art and other painting related activities such as judging art shows, artist talks and traveling to do live painting commissions at special events. She loves discovering new ways of having art bring revenue. One fun project was working with movie companies creating the artwork that was displayed in several scenes. Diana has many amazing artists that she follows, including Joseph Zbukvic for watercolor, and Dennis Perrin for oils.